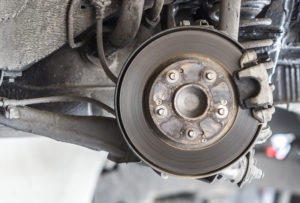 Your braking system is one of the most critical safety features on your vehicle. Most modern cars, trucks and vans use a combination of disc and drum brakes to provide efficient stopping power in everyday driving situations. Wil's Auto specializes in diagnosing and repairing brakes to ensure greater safety for you and your passengers on the road. Understanding the various parts of your braking, steering and suspension systems can help you make the most informed choices when repairing your car or truck at our Fort Lauderdale repair shop.
Braking
Your braking system consists of a number of different components that include brake pads or shoes, hydraulic master cylinders and pistons that work together to apply pressure to the front and rear wheels. This pressure stops the forward or rear movement of the vehicle to hold it in place while waiting for traffic lights or avoiding a collision with obstacles in your path. Properly functioning brakes are essential to stay safe on Fort Lauderdale streets and highways. At Wil's Auto, we can repair or replace your brake systems to provide you with the stopping power you need to navigate stop-and-go traffic and to handle emergency traffic situations in our area.
Steering
Issues with your vehicle's steering can lead to serious accidents. Identifying and repairing these problems quickly is the best way to protect yourself and your passengers from injuries or losses that may be sustained in these collisions. At Wil's Auto, we offer expert diagnostic services and prompt repairs that can get you back on the road faster. Our comprehensive knowledge of automotive systems allows us to provide you with the best possible outcomes for your steering issues.
Suspension
The suspension system in your car or truck provides a buffer between you and the impacts your vehicle sustains every day on the road. Struts and shocks are key components of this system and provide necessary support for your vehicle while providing you with a more comfortable ride. Wil's Auto can perform repairs or replacements for these components to keep your car, truck or SUV in peak driving condition.
The experts at Wil's Auto can provide the elite automotive services you need to remain safe and secure on the road. From full brake replacements to strut and shock repairs, our team of car repair experts can deliver the most cost-effective solutions for your needs. Call our Fort Lauderdale repair shop today at 954-226-9395 to discuss your situation with one of our ASE-certified technicians. We look forward to hearing from you.